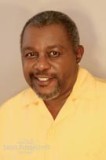 The son of an Alabama steel laborer Andrew C. McCary and laundry worker Naomi Motley, Keith A. McCary Sr. grew up as an only child in the Mt. Pleasant neighborhood of Cleveland, Ohio, where he was constantly encouraged, and urged on by his parents to study and at least, do something that circumstances prohibited them from doing, that was to finish high school.
He remembers his late dad's words as if they were spoken just yesterday, "My only wish, is that you won't have to labor like I do to make a living, learn to use your head instead of your hands!" Keith would use his mind, and his voice to become a great speaker, which in turn would create opportunities for him to be called on quite frequently to give talks at his local Kingdom Hall. He would sneak into the basement to listen, and then memorize party albums by a few of the classic comedians of the sixties and seventies, Redd Foxx, Richard Pryor, and Rudy Ray Moore just to name a few. This would eventually lead him to Karamu House, where under the name of Special 'k' McCray, he would make his professional theatrical debut as 'Deacon Crow for Day' in their 1984 stage production of Langston Hughes'"Tambourines to Glory"!
From that humble beginning, he would tour the country as a stand up comedian working all the mainstream rooms, and then the cruise ships and casinos. It was while working as a regular in a Lakeland, Florida Comedy Club that he would be discovered for his first motion picture, a small role as 'Big Money Bunny' in Orion Pictures 'Chinamoon' with Ed Harris and Benicio Del Toro. That role would lead to the part of 'Willie Red' in MGM"s 'Rush' with Jason Patric, Sam Elliott, Jennifer Jason-Leigh, and Greg Allman, which in turn led to the role that endeared him as "America"s Favorite Relative", 'Cousin Pete' in John Singleton"s 'Poetic Justice' that starred Janet Jackson, Maya Angelou, Joe Torry, Regina King and the late Tupac Shakur.
Website link: Coming Soon!