Director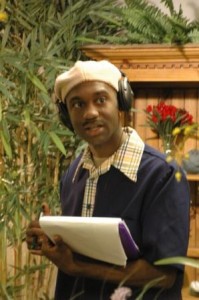 Five Alive Films, officially established in 2007 by Gerald Jackson, Jr. , was created with the hopes to become heavily involved in the Jacksonville and national film scene. Jackson, who holds a Master's Degree in Film Studies from Florida State University, also has a Bachelor's in Film Studies from New York's Columbia University as well as another Bachelor's of Communications from the University of North Florida. Five Alive Films was started with the main intention of working on short films and music videos, but the company has grown immensely with the help of several filmmakers in the Jacksonville area who have not only inspired Five Alive Films, but also who have teamed up with Gerald and his team.
In 2005, Five Alive Films splashed onto the scene with the local band Tracy Shedd.  He directed the music video for their single, "Jumping Waves." This was quickly followed by a music video for the Washington, D.C. , based jazz musician, Rob Mercer, and his song, "A Brother's Worship." It was shortly after this that Troy Sneed, the Grammy nominated Producer, Musician, and owner of Emtro records approached Gerald to collaborate on a video for the song, "Work It Out". Currently, this project is constantly rotated on the Black Entertainment Network (BET).
One of FAF's most notable projects was the promotional video for the local rock band, "Harloe." This production featured a live performance at a local Hot Topic. In 2009, Five Alive Films worked with Bonafide Praisers to produce the music video for their single, "Heal the Land."  This single has been a smash hit on several radio stations.
In the Spring of 2006, USA TODAY and NEW YORK TIMES BESTSELLING ROMANCE NOVELIST, Brenda Jackson decided to use  Five Alive Films' services. In the process of coming up with ideas, the two garnered the idea of a "book trailer" to help promote her upcoming books. The first "book trailer" the two produced was for Mrs. Jackson's Solid Soul.  After the trailer was released, the novel sold like wildfire and even went into a second printing.  This achievement was extremely rare at the time. Mrs. Jackson was so impressed with the trailer's success that she returned to Five Alive Films, this time to promote her fiftieth romance novel–Slow Burn. She has since worked with Five Alive Films for the trailers for Tall, Dark Westmoreland! and Intimate Seduction.
Five Alive Films has been very supportive of the Jacksonville film community by hosting bake sales, promoting local musicians through coffee house shows, and attending several film events in town, from Tiger Lily Media's Works in Progress to the Jacksonville Film Festival.
Five Alive Films is looking at a strong year this year with the production of Truly Everlasting, the company's first feature.  A second music video for Rob Mercer, several medical commercials,  and a fifth book trailer for release in the winter of 2010/ 2011 are in the works. Five Alive Films–Florida Film making at its finest!
Please feel free to check out Five Alive Films on the web at www.fivealivefilms.com
Click here to read the official press release for Truly Everlasting – The Movie.