Guest Consultant on Set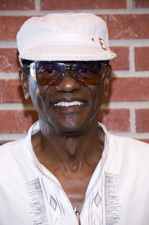 Arthur Jackson, who lives in Los Angeles, CA, retired as a well known sound technician, boom operator and utility man in Hollywood. He flew in to share his expertise with the crew on set for a week.  He was a joy to have on set and provided a lot of worthwhile advice.  He also serves as a consultant to his cousins – Executive Producer,Brenda Jackson and Director, Gerald Jackson, Jr. as they forge ahead into the world of filmmaking.
Arthur has the following credits:
Movies -  Shocker, Ghoulies, House Party(#1), Alien Nation, Amityville 5, Dangerous Passion, Secret Agent O, House 4, The Young Riders, Roots, From Here to Eternity (the remake), Sackets, Search for the Gods, The Cave, Delancy Street, Stud's Leonigan Does What It Takes, Smart Guys, The Original Roots, the first series and he worked on the set with Quincy Jones on the music for Roots.
Feature Films – Mame, California Suite, Any Which Way You Can, Hooper, Gauntlet, Funny Lady, The Idol Maker, Frisco Kid, The Poseidon 2, The Man with Bogart's Face, Taps (starring George C. Scott and Tim Hutton), The Long Riders, Reckless, Altered States, Won Ton Ton, All the Wright Movies, Penitentiary 3 and I'm Gonna Get You Sucker.
TV Series -  I Love Lucy, Police Women, Macmillan and Wife, Iron Side, Emergency, Police Story, Taney Fly, The Walton's, The Dukes of Hazards and Eight is Enough.
Studios Worked – MGM (Sony), Disney, The Burbank Studio (Warner Brothers) Universal Studio, Paramount Studio, 20th Century Fox, CBS, Producers Studio, Culver City Studio and MGT Studio
More about Arthur Jackson