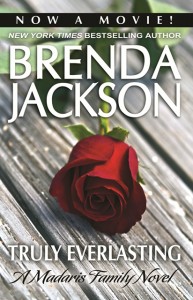 As the holidays settle in around Houston, Texas, young Austin has but one wish- for a Christmas Daddy. When his mother, Felicia Madaris, learns of his wish, she turns to childhood rival turned family friend, Trask Maxwell, to help fulfill her young son's wish. But soon, Felicia realizes that its not just Austin's Christmas wish that is coming true….
Truly Everlasting – The Book, was a story originally included as part of the Something To Celebrate anthology in 1998 by BET Books. It was later reissued in 2009 as part of the Essence of Desire anthology by the Madaris Publishing Company. Currently Essence of Desire is available in regular book format in Brenda Jackson's online store at www.brendajacksononlinestore.com. And it can also be purchased as an e-book on Kindle and the Nook.
A stand-alone copy titled Truly Everlasting (picture shown above) will be printed in the fall of 2011 as a special commemorative edition that will also include a copy of the movie script and photos that were taken on set during filming.