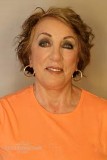 In the middle of an air raid during World War II in England, a single mother gave birth to a daughter, Cora Anne. Unable to care for her daughter, Cora went into foster care.
Luckily her foster Mother was from a theatrical family who gave her the encouragement that drove her to the Arts where she learned Music and Dance at an early age. By her teens Cora Anne had become a professional Dancer. Fortunately an opportunity came her way for a leading role in the Theater as "Maid Marion " in Robinhood thus acting become a large part of her life. Aside from acting in the Theater ,coupled with her dancing Cora Anne was asked to appear in her first movie, Beautifull Britain, as a host.
By the 70′s Cora Anne had married and started a family. As the years passed Cora Anne moved to the U.S,A, with her family in the early part of the 80s. She bought a business in Flordia and, for the most part, it took over her life.  But despite all the hard work Cora Anne and her family enjoyed travelling around the world; Scuba Diving on the Great Barrier Reef, Safari in Africa and Europe. Equally inportant, Cora Anne rusumed playing the Piano , and as it follows, a yearning to Act once again surfaced. With this in mind Cora Anne returned to acting in Films as an extra as a Hosipital Patient in A.E, The Glades, and a Jackie Mason film, In-a-Pickle, as a hotel guest. Subsequently she had a leading role in an independent film as "Wend" in All Keith's Shop.